GREEN THOUGHT
Download:

Green Thought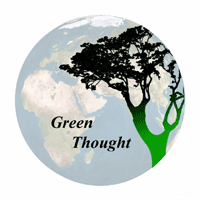 Scientific journal Green Thought covers different topics from the fields of social ecology, political ecology, sociology, environmental economy and natural resources. The journal studies contemporary environmental problems, ecological theories, "green" political, social and economic thought, ecological culture and ecological education. Journal is particularly interested in the study of the theoretical studies of environmental policy and its implementation in practice, both in Serbia and other national environmental policies, and in particular international environmental policy. It is published by Center for Environmental Policy and Sustainable Development (CEPOR) of the Faculty of Political Science and Faculty of Political Science of the University of Belgrade.
Scientific journal Green Thought has the following sections:
Studies (extended original research papers in which previously unpublished results of researches are presented)
Articles (original small-scale scientific works, debates on a particular scientific topic, discussions, polemics, as well as contributions beneficial for the improvement of professional practice)
Reviews (scientific criticism and book reviews)
Chronicles (texts and information about domestic and international scientific conferences, seminars, promotions and other social and political events related to ecology and environmental issues)
Announcements (basic information about the ongoing scientific-research projects, domestic and international conferences and thematic issues of the journal)
Scientific journal Green Thought may have, in addition to the above, other sections that fit into the basic concept of the journal, which are decided by the Editorial Board.
Papers that the Editorial Board takes into account for publication will be peer reviewed by two reviewers. Editorial Board ensures and guarantees the confidentiality of the review process. Editorial board and the editor determine the final content of each issue of the magazine.
Language of the publications in this scientific journal is Serbian. Besides Serbian, papers may be published in different languages that are acceptable in international scientific communication (English, Russian, Croatian, Slovenian, French, German, Spanish, etc.).
Regular issues are published twice a year (semi-annualy) in a paper form.
Journal Green Thought may be published as a part-time, supplemental and special issue, which is not considered an integral part of the volume of the journal.
Journal Green Thought is also published in electronic form and is available on the website of the Center for Environmental Policy and Sustainable Development (CEPOR).
Editor in Chief
Darko Nadić, Faculty of Political Sciences, Belgrade, Serbia
Editors Board
Darko Nadić, Faculty of Political Sciences, Belgrade, Serbia
Vukašin Pavlović, Faculty of Political Sciences, Belgrade, Serbia
Mina Petrović, Faculty of Philosophy, Belgrade, Serbia
Dejan Milenković, Faculty of Political Sciences, Belgrade, Serbia
Vesna Miltojević, Faculty of Occupational Safety, Niš, Serbia
Petar Đukić, Faculty of Technology and Metallurgy, Belgrade, Serbia
Ivica Radović, Faculty of Security Studies, Belgrade, Serbia
Želimir Kešetović, Faculty of Security Studies, Belgrade, Serbia
Vera Arežina, Faculty of Political Sciences, Belgrade, Serbia
Milena Gligorijević, Faculty of Political Sciences, Belgrade, Serbia
Dragan Živojinović, Faculty of Political Sciences, Belgrade, Serbia
Dragana Repak, research Associate, CEPOR, Belgrade
Stefan Šipka, research Associate, CEPOR, Belgrade
International Editors Board
Andrew Dobson, Keele University, Keele, Staffordshire, UK
Irina Alexandrovna Sosunova, International Independent University of Environmental and Political Sceinces, Moscow, Russia
Sherilyn MacGregor, Keele University, Keele, Staffordshire, UK
Drago Kos, Faculty of Social Sciences, Ljubljana, Slovenia
Zdravko Petak, Faculty of Political Sciences, Zagreb, Croatia
Šime Pilić, Faculty of Philosphy, Split, Croatia
Marko Babić, Instytut Europeistyki, Universztet Warszawski, Warszawa, Poland
Richard Kahn, Antioch University, Los Angeles, California, USA
Eric Martin, Bucknell University, Lewisburg, Pennsylvania, USA
Camelia Voinea, Faculty of Political Sciences, Bucharest, Romania
Laia Serra Sellares, Thigis Serveis Ambientals, S.L., Barcelona, Spain
Florent Parmentier, Sciences Po, Paris , France
Sreten Vujović, Faculty of Philosophy, Belgrade, Serbia
Danilo Ž. Marković, Retired university professor, Belgrade, Serbia
Vukašin Pavlović, Retired university professor, Belgrade, Serbia